Stop doing that boring weekly reporting stuff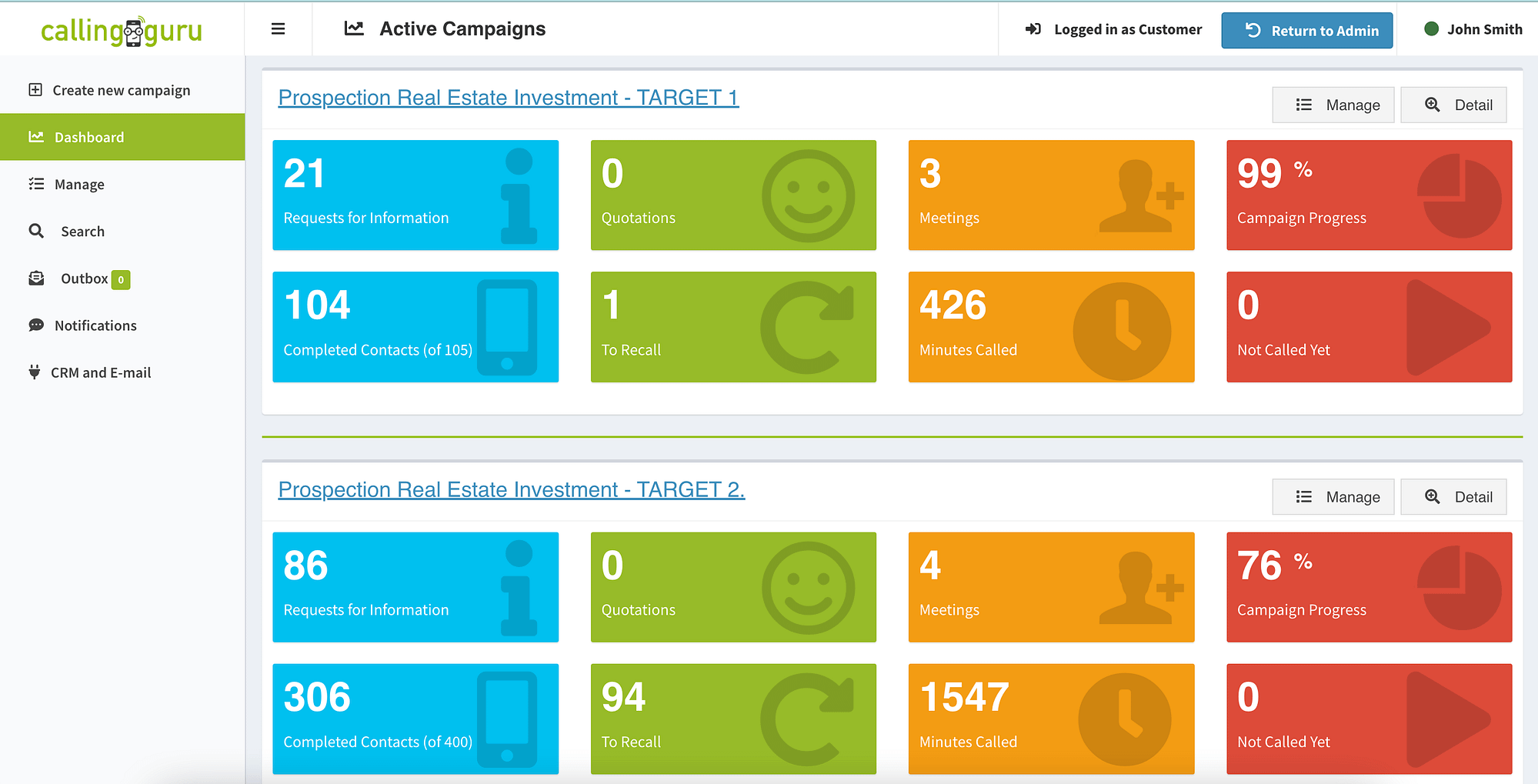 With the built-in customer portal, customers can:
Follow up results
Edit and manage campaigns
Set mail notifications
Link with their CRM and e-mail
The customer portal is designed specifically for end customers to follow up results of their campaign.
They have a live view on call notes, call logs, sales appointments and have the possibility to edit a call status or add notes to a company. Export to Excel included.
Stop Calling Strangers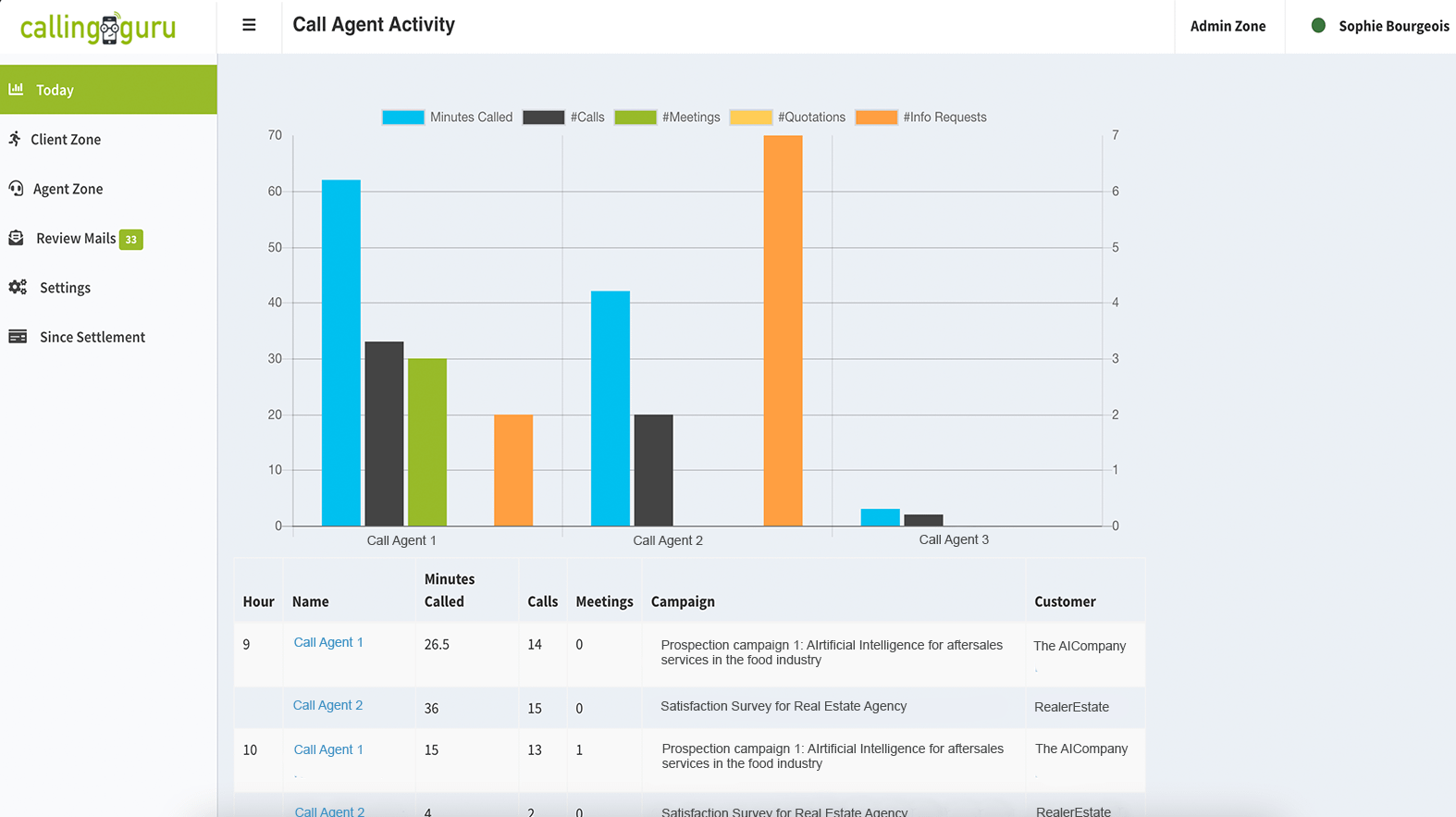 You'll notice a higher conversion rate with call agents who use the tools to get to the actual decision maker, lookup a company in advance, adapt their story to news.
Calling Guru offers them the tools to
lookup the profile of the stakeholder on Linkedin
check the website of the company
get the latest news on the company
and much more…
These features are geared towards B2B mostly and provide you with an edge for these types of projects.
Chill. When something important happens, we'll let you know right away.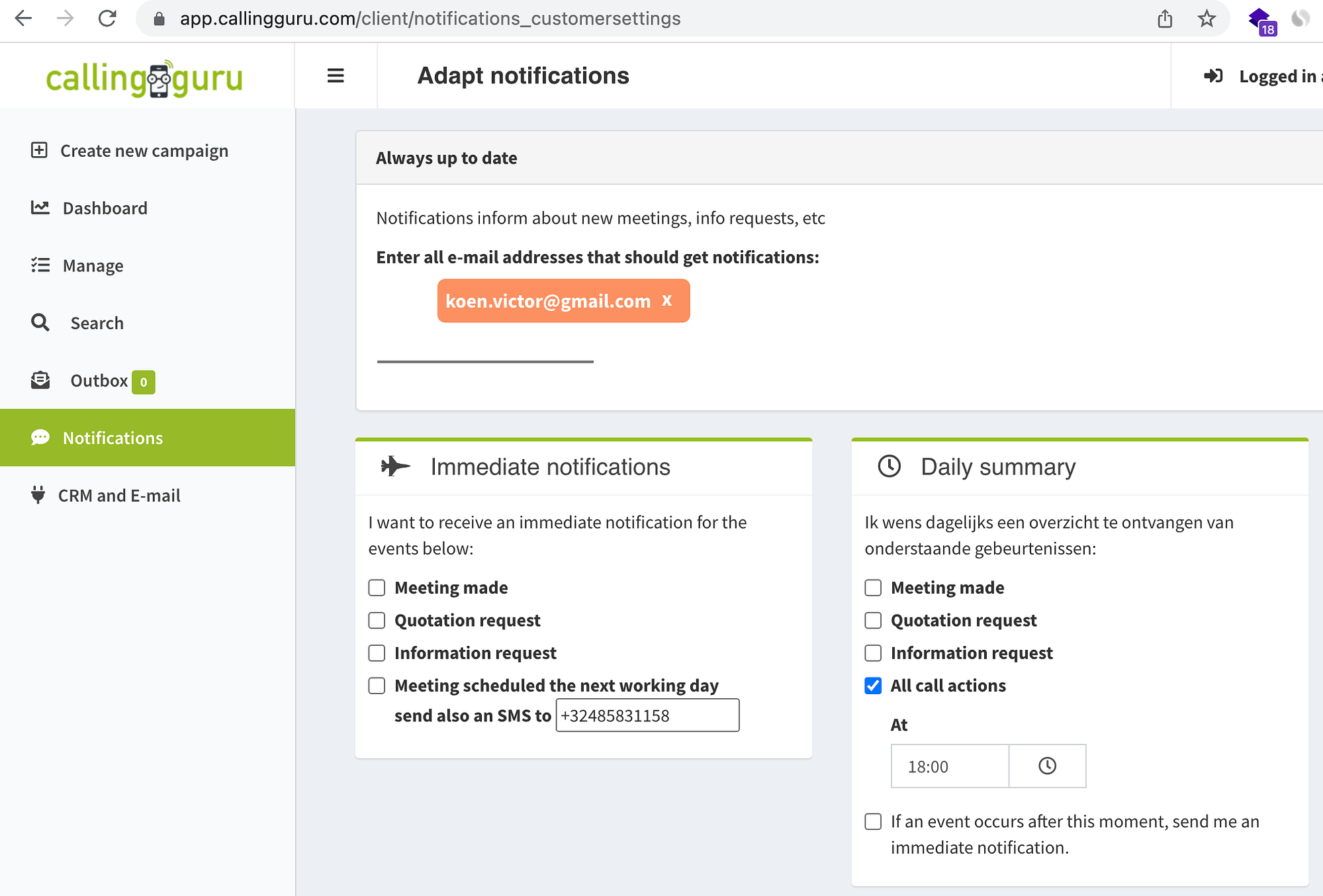 Your customer, and your teamleaders, are notified of important events
a quotation request that requires additional work
a prospect that can meet tomorrow: we'll send an SMS to the sales rep just to make sure
budget overruns for a campaign
and much more…
So you can focus on the quality of your operations. Or your own sales. Or, rest. It's really up to you, we won't judge.
Calling Guru talks to your (customer's) CRM
The API allows you to assign leads, send notes and call data back to Pipedrive and change leads from funnel after a first call or appointment.

The API allows you to assign leads based on a custom property field, send notes, appointments and call logs back to Hubspot on company level.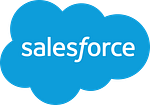 The API allows you to assign leads based on a specific owner, send notes, sales appointments and call logs and tasks back to Salesforce.

The API allows you to assign calls or leads and send notes, sales appointments and call logs back to Teamleader on company level.
Using another CRM or invested in a custom made CRM? No problem. Use our open API source to create your own flow.
No need for a PhD to onboard & manage your team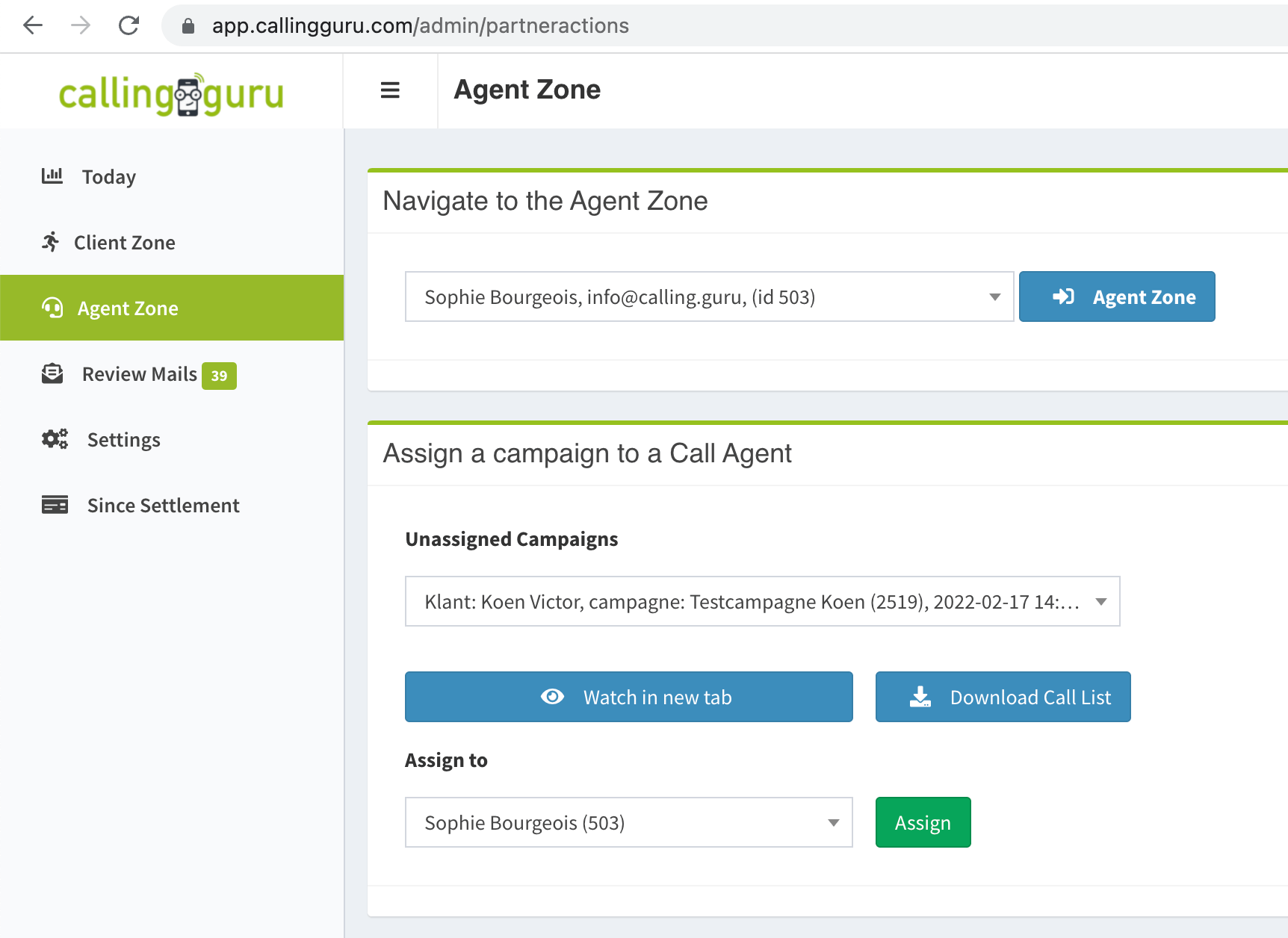 Work with an internal or a freelance team without hassle
A new agent simply creates an account
You assign a campaign to the call agent
Call Agent accepts
They just call within the browser. Nothing to setup.
Calling Guru registers all activity, so you can pay by minutes worked, or pay by day, it's up to you
The Call Agent Portal is designed specifically for call agents and provide them with everything they need and nothing more.
Yes, it even does your e-mail too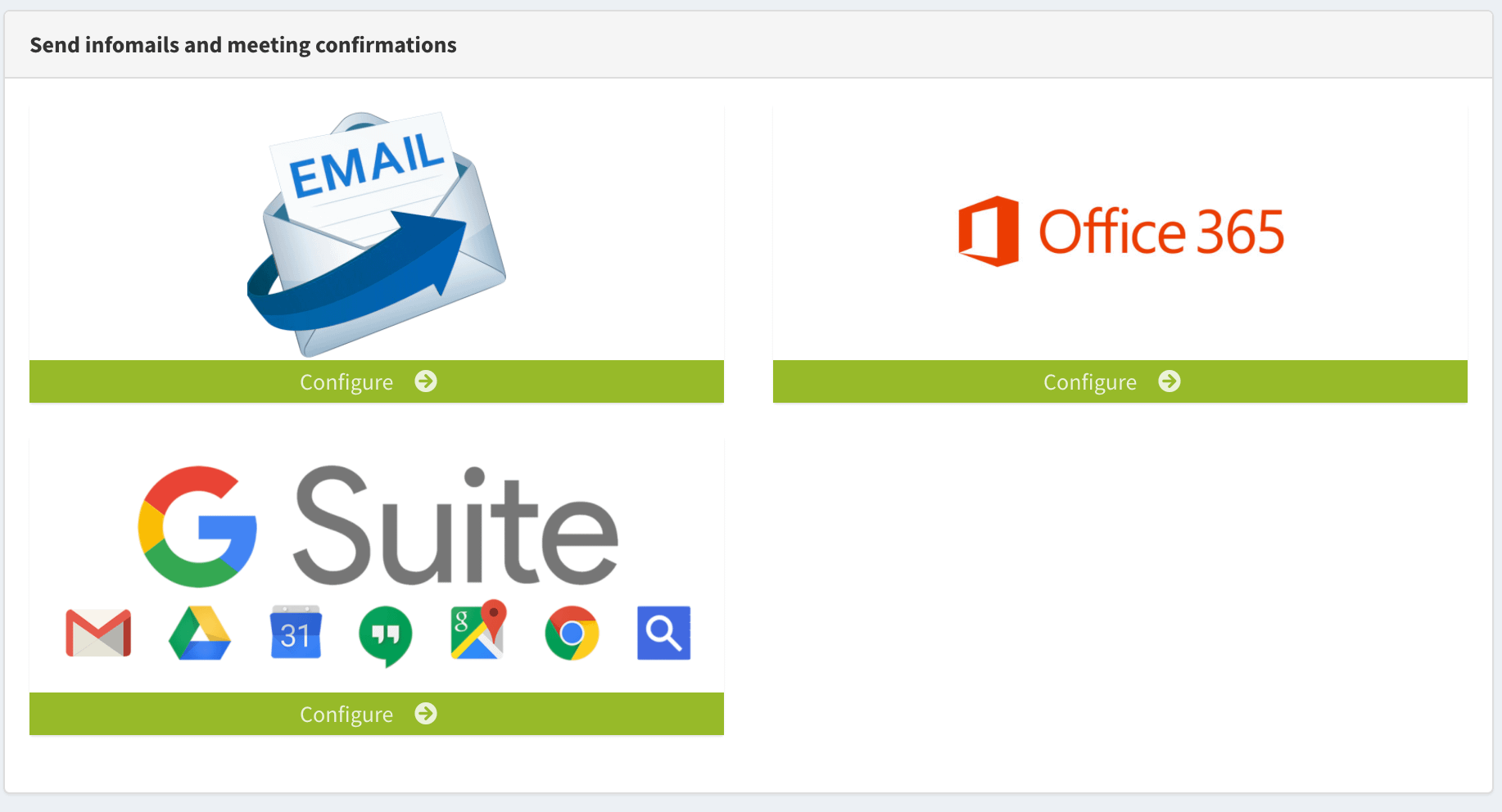 We didn't stop after we had built the cool stuff. We also did the stuff you already know from our competitors
you can sync with Office 365 of Gsuite or use an old e-mail system. Have fun with that.
oh yes it does e-mail templates.
but please… just let your customer configure it in their own portal. It's like super easy.
you can search and edit contacts. Your customer can too. It's like Google but for your contact list.
and other hard to get right but done right stuff is available. Check that out people!
How to run your call center with Calling Guru
Video Transcript
Calling Guru is an easy to use Call Center software with a built-in Customer portal, CRM integration and a special focus on outbound calling. Our goal is to create the best possible software for call centers and internal sales organisations. We used to be a call center ourselves, so we have a lot of experience.
Some may think an Excel sheet is all it takes, but many customers also require to be kept up to date on the progress and feedback from a marketing campaign.
And while you can update customers weekly, it is time consuming and has a lot of repetition.
Calling Guru automates the communication with your customers as they have access to a self service portal and can search, enable notifications, and download reports.
If you like, it can integrate with your customer's CRM system to make imports and export as smooth as possible.
In addition, Calling Guru keeps its prices low making it a no-brainer for everyone to use.
By the way, Calling Guru behaves as a white label product, so you can use your own name and imagery in all emails and web pages. Many users consider this a great way to strengthen the branding with customers, colleagues and call agents.
To get started, create an account and give your call center a name that is still available.
You will get your own web address where customers, call agents, and yourself, login to create, view or manage campaigns.
After you have created your account, your call center is ready to go.
Customers have access to the customer zone, and call agents have access to the Call Agent Zone.
Your account is an Admin account, so you have access to everything: you can enter everyone's zone whenever you like to check up on things.
Let's explore the menu of the Admin Zone.
In Today, you'll see what campaigns are active right now.
In Customer Zone, you can navigate to the customer zone of any of your customers, manage your customer list, and more.
Let's login to the customer zone to get the fun started.
In the customer zone, I can do everything a customer can do, such as starting a campaign, see the results or change the my notification settings.
Let's create a new campaign.
I can upload contacts with an Excel file, import them from a CRM, or I can just type in phone numbers manually.
Let's give the campaign a name, objective, and fill in the ideal profile of the person to contact.
Next, I can create a dialogue or script. This can be super handy for surveys, but there's no requirement to do that.
Next, I upload the spreadsheet.
I submit the campaign and if calling is all I want to do, I'm done here and I can go back to the admin zone.
Congratulations, this is the first campaign on my system!
Optionally, I can configure different things here, like email templates.
These are all things customers can do themselves, or you can do it for them like I did just now.
I return to the admin zone and from here,
I go into the agent zone menu to assign our campaign to a call agent.
In this case I assign it to myself. So I will be calling the contacts.
It's time to start dialling so I navigate to the agent zone where I can accept the campaign.
Now, I'm in the role of a call agent and I see there's 1 campaign ready for me.
When I'm ready to accept the campaign I can start dialling right away.
The first time, you should allow usage of the microphone and speakers by the browser.
I always recommend a headset if you have one available.
Ok so let's say this contact wants to be recalled at a better time. We can schedule this.
You can find the recalls later in your recall list.
If you have made a mistake, you can always edit the information afterwards. Also, you can listen to a call if some details were unclear. Make sure that if you record calls, you respect the legislation in your country.
And this is it, I made our first campaign and placed a call and it shows on our activity dashboard.
There's much more to explore. Check out the documentation and other videos to go deeper into all features.