Inbound capabilities
Calling Guru is widely known for its outbound calling capabilities. However, now it can handle inbound calls perfectly as well. This can be important to improve your conversion rate. People who take the time to call back are possibly in the mindset to hear what you are calling about.
Calling Guru will search for the right contact depending on the number who is calling, so call agents are immediately up to speed with the topic at hand, can plan meetings, etc
Of course, your client is billed accordingly for inbound calls.
Check out our support article on how to use inbound call handling!
A more convenient search is available in the customer zone and call agent zone. Every result can be edited which makes it a great addition to correct mistakes. Making this available in the Call Agent Zone was a frequently requested feature because it improves what the Call Agent can do to support the quality of the work.
Show your company's colors to customers, partners and employees. If you like, you can setup Calling Guru as your own. It is fairly easy too, upload your imagery and you'll be surprised the effect it has to retain customers.
Next to this new feature, we now also support completely custom domain names. If you'd like http:// only call center in the world .com we can setup Calling Guru there for you there. If that domain name is still available of course.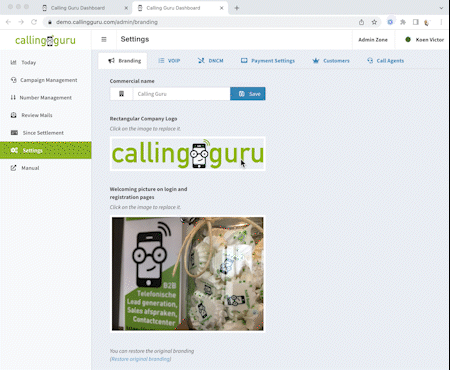 There were uncountable bug fixes and small updates (well, actually, source control did count them: 138) making your daily life a little easier. Enjoy!